I was asked by KB where my build was up to and said I would post some items about certain bits of my build as I have enjoyed the Towers boys and Stewie's posts. I should say at the outset I am neither an engineer (Stewie) nor do i have any great knowledge of cars (Roger). However, I am Zen in the art of hiding half a cobra in the garage without having told the wife. Yes I did finally have to own up - there are limits and a V8 on a pallet is well beyond mine.
The first post relates to my rear axle - or really to Roger's rear axle as I plagiarised, I mean researched, his idea. The diff is a limited slip which has been rebuilt and the plates lightened to take account of the cars lighter weight.
P1020729
by
James Adeley
, on Flickr
P1020731
by
James Adeley
, on Flickr
P1020730
by
James Adeley
, on Flickr
The half shafts and wishbones are shortened and the carriers are XJ 40 which means the discs are outboard. Pads are standard Jaguar. My callipers are fitted as Jaguar intended fitting forward whilst Rogers are correct cobra and face backward. I don't think anything turns on this. The hoses run form the T piece out to the top of the carriers. Here, due to the angle at which the brake unions insert into the calliper, I had to switch to hard pipe in order to ensure that I kept the pipes clear of the half shafts. The small brackets are fabricated, powder coated and locate into the ABS sensor opening.
A particular difficulty was in respect of the hand brake. Gerry's handbrake (MGB) is only designed to pull one cable whereas the XJ40 callipers require two cable activation. Consequently, I made up a piece that looks like a dumb bell. The piece come apart in the middle so that one end has a male and the other a female part and they are located with a grub screw. Finally all was powder coated. The cables were measured up and shortened. If ever you fit this there is a small plastic insert that inserts up from the underside into the carrier to locate the cable so that it does not rattle about. I spent several cups of tea looking at the part and having no idea where it went until I phoned a friend. The outer splined hubs were machined by an engineering firm - sorry the name escapes me. The hub retaining nuts have now been nickel plated.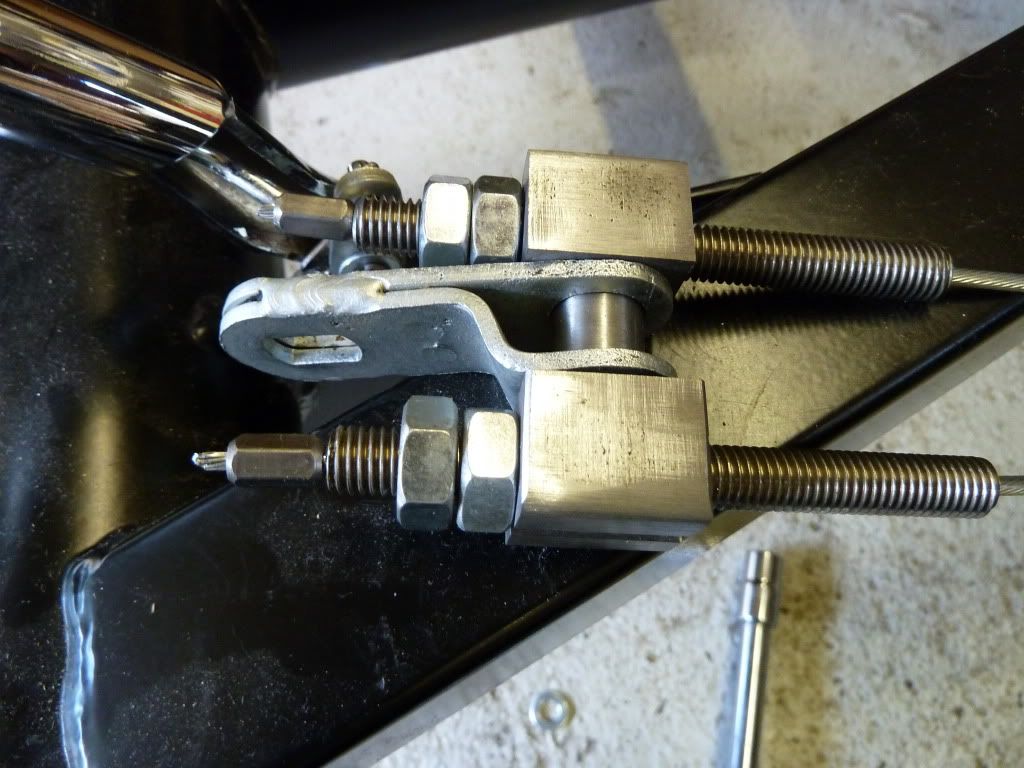 The shocks are Gerry's standard set up. The camber on Jaguar rear ends are set by inserting thin copper shims between the half shaft and the diff. I have yet to do this and if anyone can tell me if you have to have the car laden or it can be done before the body goes back on I would be grateful.