---
---
Forum member

Posts: 1386
Joined: Wed Feb 21, 2007 9:07 am
Location: Glasgow, Scotland
---
---
Forum member

Posts: 1386
Joined: Wed Feb 21, 2007 9:07 am
Location: Glasgow, Scotland
Bah humbug
---
Posts: 4274
Joined: Mon Mar 19, 2007 10:29 pm
Location: St Ives, Cambs
My track is Ninco - the track's wider, more gradual curves are available and the joints are much more reliable. Unfortunately it's all stored in the roof at the moment. I used to have a huge circuit (lap time was 50 sec!!) laid in our upstairs room (the entire roof space, as the steel frame means no roof trusses) until our daughter took it over as a 'studio'. I think the racing's better than Scalextric as the cars stay on better (less skirting board damage)... and there are some truly great cars out there!! Here are a choice few of my embarrassingly large garage: The Ferrari and T70 are Fly, the others Monogram and Revel - just a small selection…
---
---
Forum member

Posts: 1386
Joined: Wed Feb 21, 2007 9:07 am
Location: Glasgow, Scotland
It would seem that we share another common interest Roger
I had the Scalextric "bug" bad for a few years. Have well over 100 cars and tons of track (that's my circuit in the above picture) and accessories
The picture shows a collection of Fly cars all from the 1970 Le Mans 24 Hour race. I still have a few to collect, mainly the No 20, 21 and 22 Gulf Porsche's, but these are hard to find now and expensive, an Ebay challenge for Migge perhaps ????
Thankfully I am getting out more now, well at least to my garage to polish and fettle the Cobra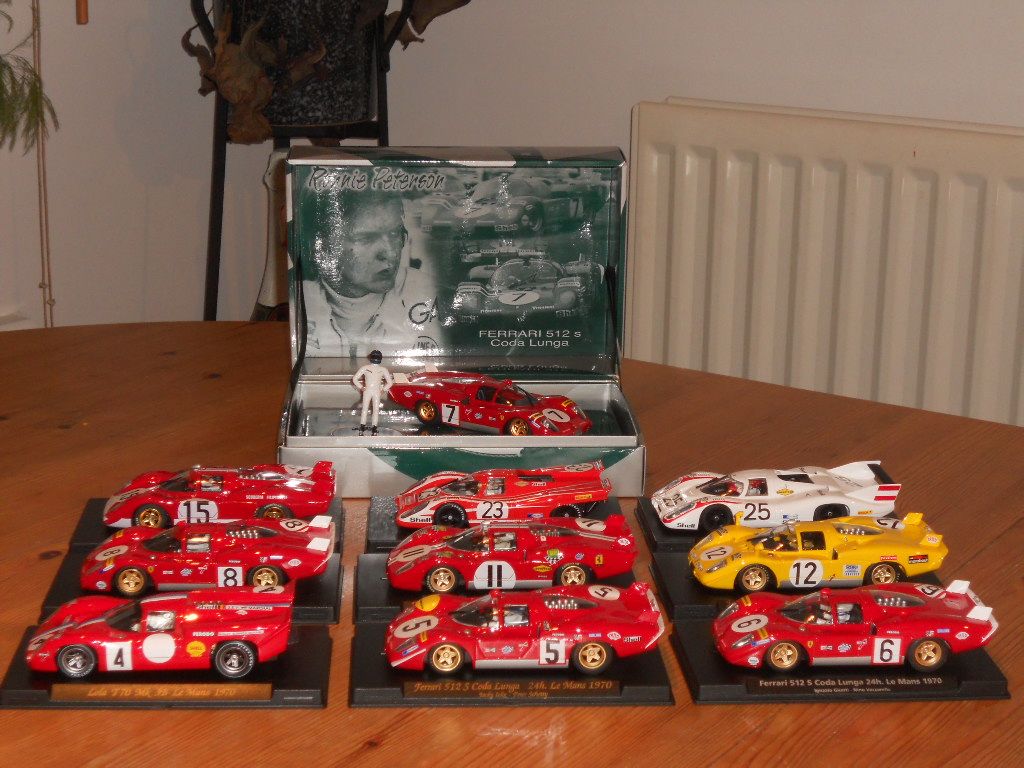 ---
Forum member

Posts: 1386
Joined: Wed Feb 21, 2007 9:07 am
Location: Glasgow, Scotland
HELP ME, I've just found this !!!!!!!!!!!!!!!!!!!!!!!!!!!!!!!!!!!!!!!!!!!!!
http://www.ebay.co.uk/itm/FLY-GULF-TEAM ... 58aa203eb8
Roger, see what you've done
Get yee back Satin.
Last edited by
kaiserbilly1
on Mon Jan 06, 2014 11:19 pm, edited 1 time in total.
---
Posts: 4274
Joined: Mon Mar 19, 2007 10:29 pm
Location: St Ives, Cambs
Well, who'd have thought it. The Fly cars are just beautiful, and I have a fair few, but probably not as many as 100!
As to the length of straight, yes it was long, but I have to admit that the cars shown have never run! I have a large-ish collection of ones I just like the look of. There's a whole box full of others that used to race, but as Colin's finding out, if you race properly things get broken so they're generally not as pretty. A good few 512s and T70s, though - my particular favourites. I never got around to GT40s - Alan Broadbent's got those!
---